Heated tube
This is a heating tube with a maximum thermal resistance of 400℃, which specializes in thermal insulation and heating of flowing fluid and gas similar to a heated hose. The inner tube is further lengthened out at both ends, making it possible to insert a different removable transfer tube for an easy replacement as required.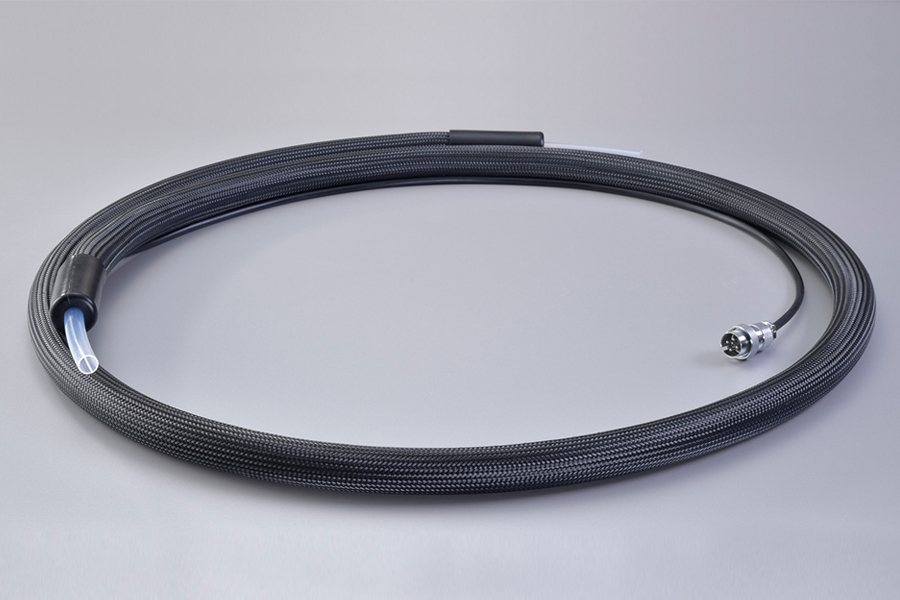 Features
Heat resistance temperature: Up to 400℃ max.
*Please ask about higher temperatures.
Capable of thermal insulation and heating, the heat-generating layer comprises evenly-wound heating elements, thus minimizing differences in inner wall temperature distribution.
Customers can select tube materials to meet their working environment and conditions.
‌Core tube materials such as Teflon or SUS can be selected to realize a flexible structure.
We can design tubes with materials and a wide range of fittings matched to applications and offer specifications to satisfy any requirements.
We can design tubes with flame retardant and noncombustible materials matched to conditions. In addition, we select heat retention material with high insulation performance to realize a structure that takes surface temperature into consideration.
Structural Drawing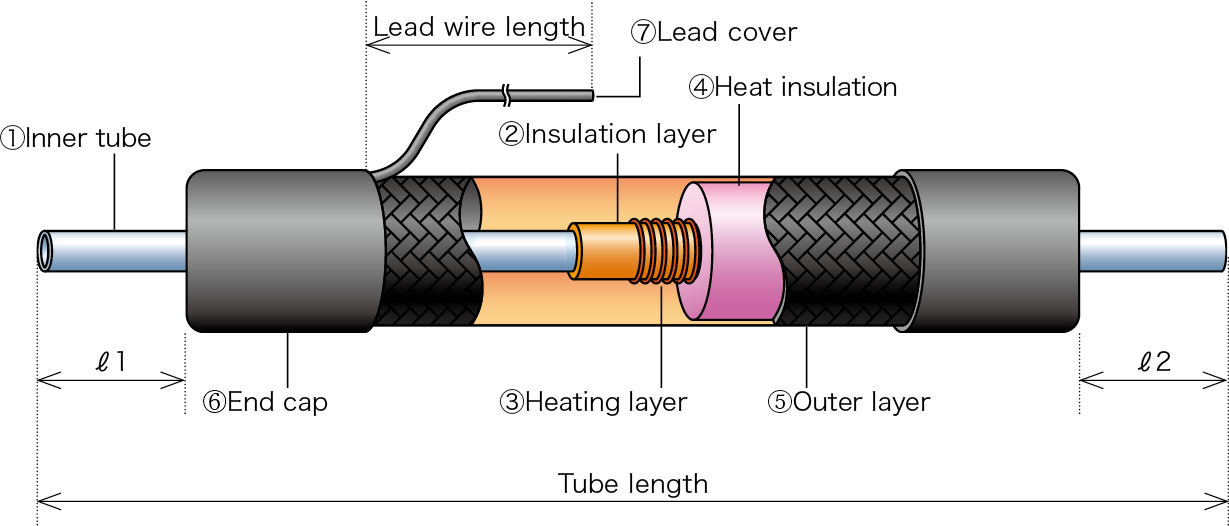 Typical Materials
| | |
| --- | --- |
| ① Inner tube | Nylon, SUS straight pipe, SUS flexi-pipe, etc. |
| ② Insulation layer | Heat-resistant fiber braid + Silicone treatment, etc. |
| ③ Heating layer | Nichrome wire (e.g. Heat-resistant fiber braid, Teflon coated), etc. |
| ④ Heat insulation | Special heat-resistant sponge, special heat-resistant felt and other heat-resistant materials |
| ⑤ Outer layer | Heat-resistant resin braid, shrinkable tubes, etc. |
| ⑥ End cap | NPM, silicone, etc. |
| ⑦ Lead cover | Santoprene, silicone-coated glass sleeves, heat-resistant corrugated tubes, etc. |
|  Power cord | Teflon coated wire, etc. |
|  Sensor wire | Thermocouples, platinum resistance thermometers, self-temperature control types, etc. |